INK IT - The ultimate multi-user wall planner (Buy now for DEC 2018 delivery)
Pre-order the 2019 edition of INK IT and get your tribe all on the same page.
Your pre-ordered shipment will arrive in December 2018, in time for the start of 2019.

Features & Benefits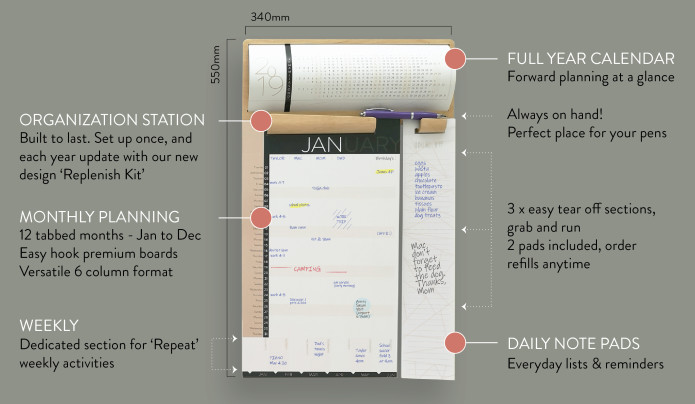 INK IT Organization Station – a uniquely curved, premium birch wood holder that easily connects onto any wall and keeps everything together. Put this beauty on display in a central location in your home or office and connect the three essential planning elements.

We have even thought about the perfect place to have your pens & markers on hand.

Full Year Calendar - for all forward planning at a glance.

Monthly Planning Boards - clear, versatile planner boards enabling individualized schedules for up to 6 people or tasks, displayed on beautifully thick reversible cards.

Daily Tear Off Note Pads - for the high frequency lists and reminders a busy environment requires.

Dimensions - 340mm wide x 550mm high.

Wall Mount - 3M removable adhesives 'no damage' wall connectors (wall, fridge, etc).
Multi-column planning versatility

Simple and Sustainable - designed to last
Each year, we will do our part in the planning (now that we're so organized ;-)) sending replenish kit reminders.
If you need to get everyone on the same page, our organization station is just what you need and we really hope you become part of the INK IT Tribe.
INK IT is more than just a wall planner. It is the ULTIMATE organization station. It gets everyone on the same page – literally.
INK IT - so you don't forget it, avoid it, miss it or double book it!